Do you need the services of a skilled tax attorney? That depends on how severe your tax problems have become. Many minor issues can be resolved by an enrolled agent or other tax specialist, but when you're facing a federal tax court summons or a legal matter, you need a tax lawyer by your side to ensure that you get the best possible outcome. Luckily, Taxation Solutions, Inc. is staffed with tax lawyers as well as other tax consultants, all of whom are equipped with the knowledge and skill to get you results. When you contact us to discuss your problems, we'll connect you with the best person for the job, whether that's an IRS attorney or other expert. In Albuquerque, if you want superior tax services, don't hesitate to call Taxation Solutions, Inc. today! We offer free cost estimates.
Contact Taxation Solutions, Inc. when you need professional help with:
Back taxes
Penalty abatement
Tax settlements
IRS audits
Tax court proceedings
Business tax problems
And more!
If your tax troubles are serious enough for a tax attorney to step in, you need and deserve the expertise that Taxation Solutions, Inc. brings to the table. Our tax lawyers and other staff are appropriately licensed to appear in federal tax court for clients in all 50 states. Our business is insured for your protection and peace of mind. Our IRS attorneys and other pros are affiliated with industry organizations including the American Society of Tax Problem Solvers, the National Association of Tax Professionals, and the National Association of Enrolled Agents. On top of those qualifications, Taxation Solutions, Inc. has an A+ rating from the Better Business Bureau. We'll give you tax lawyer services you can trust.
Experienced IRS Tax Lawyers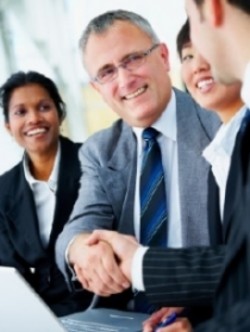 When you're hiring an IRS tax attorney, experience matters. You want someone to represent and counsel you who has successfully navigated many other individuals and business owners out of financial hot water, and who understands the intricacies of the tax codes and how they affect taxpayers. The team of IRS attorneys and other specialists at Taxation Solutions, Inc. has more than 40 years of experience on the job. We'll put everything we've learned in that time to work on your case.
When you're dealing with tax problems, time is of the essence. Taxation Solutions, Inc. is pleased to offer emergency services, if you need to speak with an IRS attorney as soon as possible because of a looming deadline or court date, or impending seizure of your assets. We'll get right to work coming up with a plan of action to bring you relief from your tax issues.
So what are you waiting for? Start the process now by calling to speak with an individual or business tax lawyer from Taxation Solutions, Inc., and look forward to an end to your tax troubles!